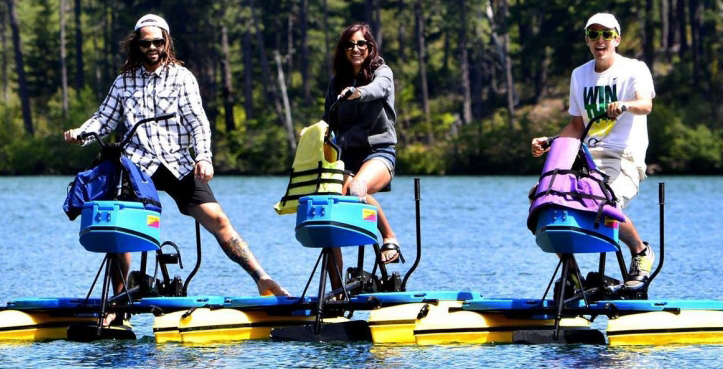 Hydrobike Water Bike Dealers Needed
Hydrobike water bike dealers control local sales of a very unique and appealing pedal powered watercraft.  You'll have a protected territory with no competition.  We provide leads that come to us.  Our water bikes are the clear choice when put alongside kayaks, and SUP'S.  You never get wet.  No balance, or ability is required.  Your market is large and diverse.  Everyone from 8-80 can enjoy a Hydrobike.
 Hydrobikes are the best kept secret in water recreation!  Be the first to share them in your community.
Hydrobike Dealer Advantages
No Competition
Protected Territory
Leads Provided
Premier USA Built Watercraft Since 1990
Eco Friendly Water Bike
Promote Eco Friendly Pedal Power
Real Biking On Water Product
Unique Appeal To Everyone 8-90
Proven, Established Brand Since 1990
Thousands Sold In 74 Countries
Synonymous With Family Water Fun & Fitness
Good Margins
Marketing & Technical Support
You'll Be The Only Source In Your Area!
Hydrobike dealers are needed throughout Canada and the US.  You can benefit by becoming a local dealer of Hydrobike water bikes.  International opportunities exist for master distributorships.  As a Hydrobike Dealer you'll be promoting a premier USA built pedal powered water bike with unique appeal and legendary for long life.  You'll enjoy a competitive edge by putting your name alongside Hydrobike Inc., the world's # 1 selling water bike manufacturer.
As a member of Team Hydrobike, you'll have over 25 years of our experience to draw from.  We provide the sales, marketing, and technical support you need.  Our company is about teamwork, and building solid relationships based simply on offering great value and following through.
As the first in your area to offer Hydrobikes you'll hit the ground running with a proven brand that has been synonymous with premier family fun and fitness of the water since 1990.
To learn more about becoming a Hydrobike water bike dealer, or to get started, contact John at 1-888-403-9012, or email john@hydrobikes.com for a Hydrobike Dealer Info Kit.