Sneak Up On The Big Ones With Hydrobikes!
I'm a dedicated bass fisherman with over 40 years experience. My Hydrobike Explorer small fishing boat has enabled me to land big bass! The Hydrobike is faster, quieter, more stable, safer, and more comfortable than fishing kayaks.  Hydrobikes have two platforms on either side of the frame to provide rock solid stable casting decks with a high vantage point from a seated or standing position to view underwater structure.  This is a real advantage to pinpoint your casts as well.  A 12″ propeller spins quietly underwater allowing you to get close to big bass even in waters as shallow as 12″.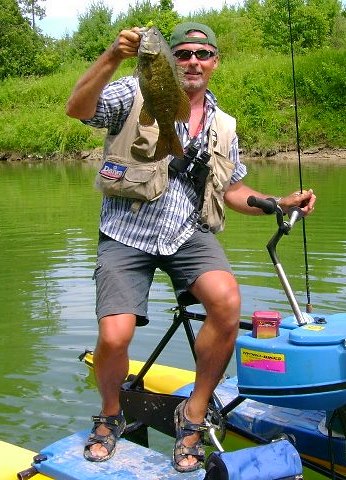 Transportability and portability are no problem. Quick tear down without tools gets you in and out of the water quickly.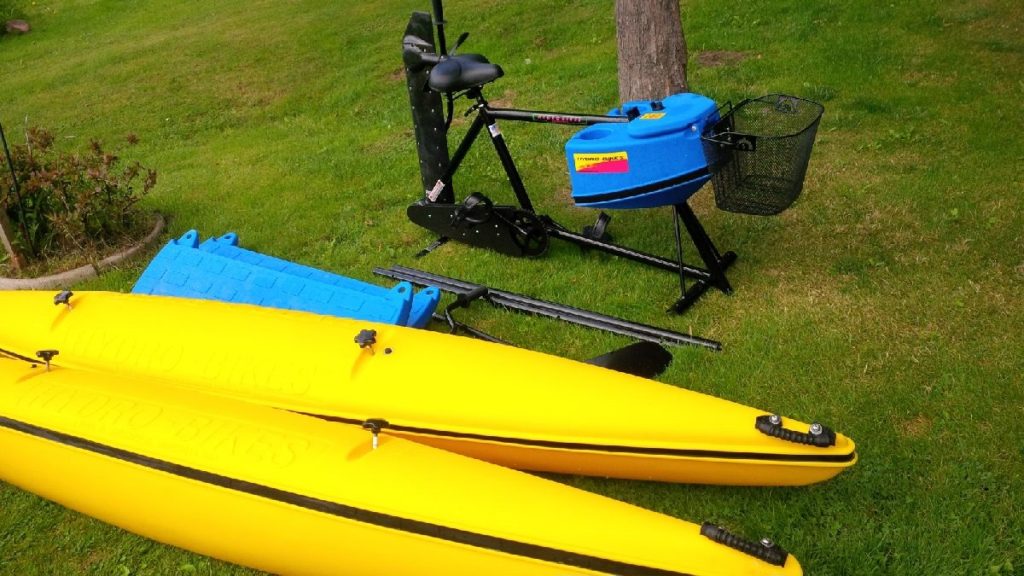 Hydrobikes allow you to sneak up on wary fish. Whisper quiet operation comes from a computer designed 90% efficient underwater propulsion system. Catamaran styled pontoons are sleek and streamlined to glide through the water briskly with barely a ripple. Positioning is easy … even in strong winds.  Getting close to the big ones whether in shallow water, or the deep honey holes is easy with Hydrobikes.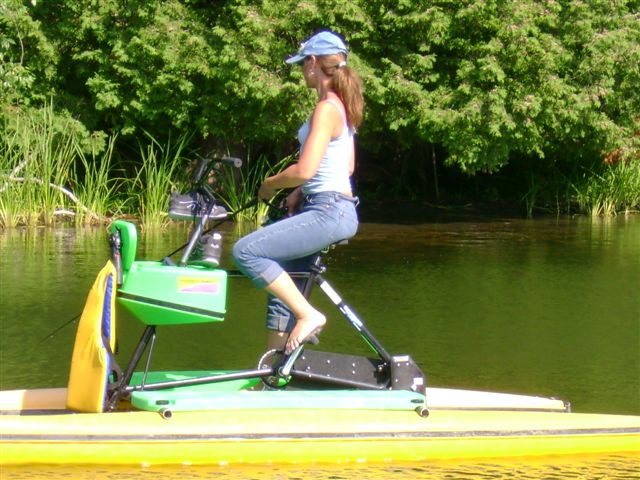 With Hydrobikes, fish while seated or standing on the deck
You can fish from an upright sitting position, high above the water. An excellent vantage point to assess water conditions and finding fish holding structure. You can cast, maneuver, and stay in the strike zone from the comfort of your upright sitting position. Simply pedal forward or in reverse to keep your Hydrobike small fishing boat within lunker range!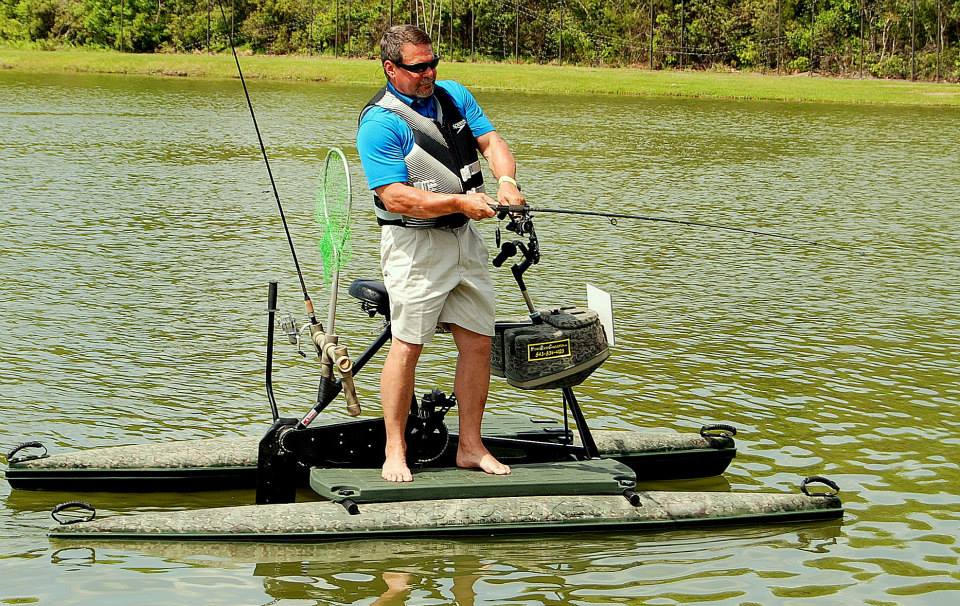 Hydrobikes are pedal powered with the most advanced, commercially tough pedal drive in the industry. They have proven themselves on all oceans, lakes, rivers, and streams in 74 countries since 1990. Many original units are still gracing our waterways.
You can hold your position without anchoring by pedalling and fishing at the same time. Use the custom front mounted rod holder for trolling or freeing up your hands. Hydrobikes should be a consideration for all those looking at fishing kayaks and other non motorized fishing boats.
Ideal for Bowfishing & Gigging! High vantage point, can navigate in 12″ of water, stable, and no gas required! Pedal powered, 10′ long, almost 5′ wide, 120 lbs, 400 lb capacity, easy transport, assemble/disassemble in 3 minutes without tools, quiet stealth, rod holder, and storage space!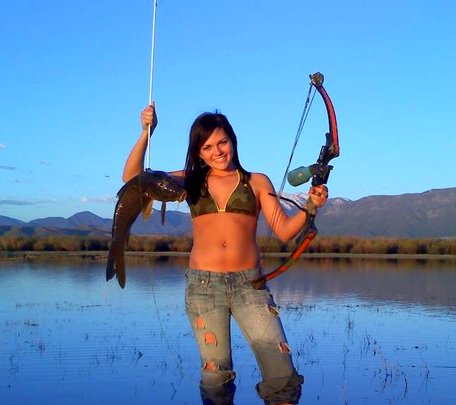 Fish all 4 seasons with Hydrobikes!
Spring, summer, fall, or winter … no matter, after a day on the water, the only fuel you'll burn is calories with our eco friendly Hydrobike small fishing boats!