Hydrobike Reviews:  Our Customer's Good Words Have Spread Hydrobikes Into 74 Countries.  Everyone from 8-90 Loves Our Water Bikes!

JOIN OUR HYDROBIKE FAMILY!
What Our Customers Are Saying;
---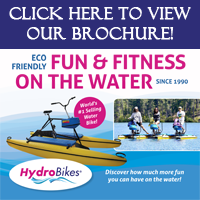 Detail Oriented
"I have have worked as an engineer at the Kennedy Space Center in Florida for the past 26 years. I had been looking for a pedal powered water bike for some time and researched the various models that were commercially available and finally decided on the Hydrobike. It is even better than I had imagined! Whoever designed this machine thought of every little detail. Everything went together perfectly. I weigh about 235 lbs so I was worried about stability. No problem at all. I can stand on one pontoon and the bike is still completely stable. It is really fast and easy to handle. It was almost effortless. What an incredible machine! It handled the rough water with no problem, went into the wind easily and was a pleasure to use. The designer thought of everything!"  Jim Myers, FL
---
Love my Hydrobike!
"I love my Hydrobike and consider it in the category of one of the greatest purchases I have ever made in my life."
Bob Thayer, IL
---
Exceptional Design
"After recently retiring, I wanted to increase my exercise and fun level too – the Hydrobike is perfect for both. It's great fun, easy to pedal, scoots along fast, and I get the side benefit of toning up at the same time.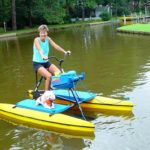 The design of the bike is exceptional – lighweight, handy carrying straps for easy entry into the water from our dock, sturdy and stable platform, and easy to set the handlebars and seat ergonomically correct for different height riders. My bike was in demand for our recent Father's Day picnic, and we had riders from 8 to 72 years old and they all loved it. My favorite time to ride is early in the morning or after the sun goes down. I have to sneak out of the house if I don't want Buster, my dog, to go with me."
Betty Madison VA
---
The Kids Loved Them!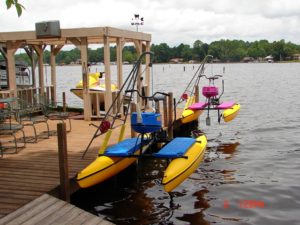 John,
My dealings with you and your product has been a pleasure. I will always remember the moment those kids saw the bikes hanging from their dock for the first time. I went up to the lake house before them to do the install, so they would be surprised, and when I told them I had gotten the bikes for them, the look on their faces and the squeals of joy is something that I will never forget. Thanks for making it possible. You are a great business man dealing in a fantastic product!  Dave Trusty, Texas
---
Great Way to Meet Friends
"No one can pass you by without stopping to find out about the bike. It's harder to resist than a new puppy. Talk about a great way to meet friends. It is also most enjoyable passing the gas pumps with a smile on your face as the prices go up. One day I came within 15 feet of a family of loons. Try that on a Jet-ski. I'm counting the days until spring. I put two simple strips of carpet on our dock, and the bike slides up like butter on hot corn. So easy!
Cathy Shoniker, Picton ON Canada
---
Better Than a Canoe!
Dear John,
Thank you for your very prompt reply to my questions.
The past two summers the hydrobike has certainly made my cottage experience so much better. I have always enjoyed the lake and canoeing but after I retired I found that kneeling or sitting in my canoe even for a short time was very uncomfortable. Also the wind and waves limited the times I could be out on the water. However the hydrobike has come to the rescue and changed all that as I can now be out on the lake anytime for hours without cramping up. I can stop and stand up and stretch periodically and wind and waves and motor boat wakes present no problems as the bike is totally stable and easily steered even in a cross wind and a strong headwind doesn't affect the forward speed very much. I love puttering along the shoreline and the bike provides an excellent vantage point to look down into the water to see the rocks and fish below. I have been able to get into most places with my bike that my canoe can go. I carry a collapsible paddle and a tall ski pole with me all the time and when the water gets too shallow or weedy for the drive train I lift it up and paddle or pole my way in or out of where I want to go. I am certainly looking forward to getting back on my bike again this coming summer.
You are welcome to use my name and this letter or any part of it as a testimonial to your excellent service, cooperation, and of course the great product you are selling.
Bruce Webster ON Canada
---
The Best Fun and a Real Eye Catcher
"I have had one these Hydrobikes almost since I lived here and I love it! 3 people on my lake bought one after trying mine. Its the best fun and a real eye catcher. I know you'd love it especially for your exercise touring around the lagoons. Everyone in your family would love one too its a great way to see your lake and burn some calories after the cookouts!"  Anthony Ryan PA
---
Riders From 5 to 84
"Hi John: This is definitely one of the best customer service experiences I have ever had! We have the bikes all over our lake in New Hampshire (Winnipesaukee). I have seen 5 year olds to my own father 84 years old riding them. I can see why!"  Bob Romano NH
---
4 Dolphins Know Me
"Hi John: I bet you will be getting more referrals – I have been handing out a lot of cards to interested people recently and I have been having a blast. I commute about 6 miles to work about once a week when the tides are right, and ride into town pretty much every day at sunset, coming back after dark with the herons calling me home. There are four dolphins in the harbor who know me, now, and come out to play every time they hear the cavitation of the bike – They come all the way to my house a mile from the harbor to find me sometimes. All in all, I am more fit, more tanned, leaner and happier than ever! Thanks so much, and I will keep trying to spread the word." Doug Nydick, Harkers Island NC
---
The Most Revolutionary Concept in Cycling Since the Mountain Bike
"I personally believe that the Hydro-Bike Explorer is the most revolutionary concept in cycling since the mountain bike, and would highly recommend it as a very safe and fun watercraft; a wonderful alternative to cycling on busy streets."  Randy Schellenberg, CYCLE TIME Products, Vernon, BC
---
We hope that you will join our customer list and become a part of our Hydrobike family.
*We pay all of our customers $50 for each and every successful referral*
Contact John today at 1-888-403-9012, or via email at john@hydrobikes.ca to join our happy Hydrobike list!