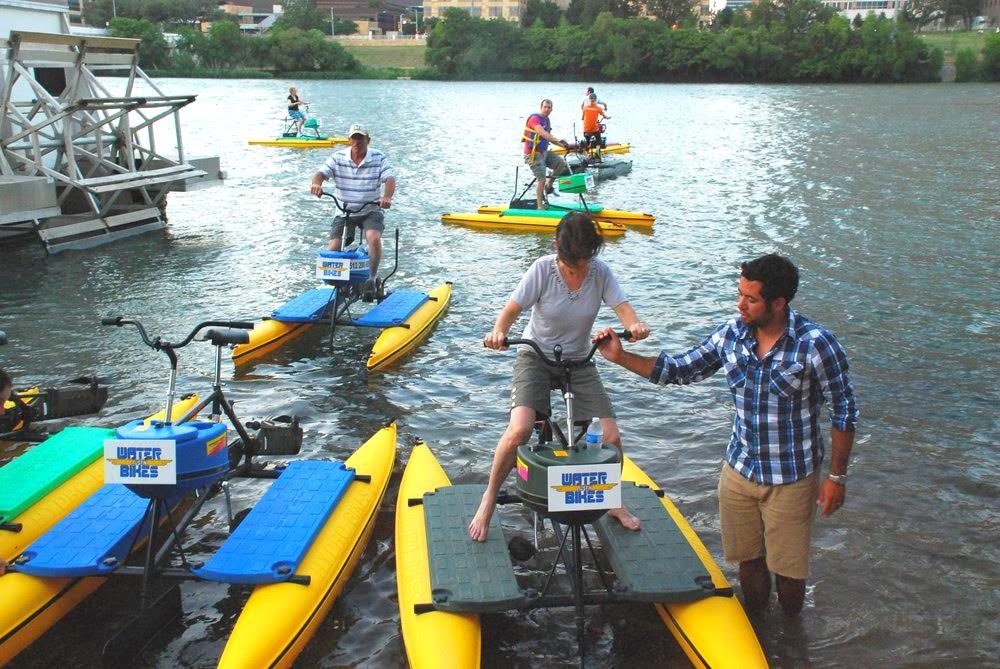 Be The First in Your Area To Profit With Hydrobike Rentals
*Learn More:  Profiting With Hydrobikes is a 60 Page Comprehensive Guide
What Hydrobike rental business operators are saying;
Hydrobike Water Bike Rentals …
"I had 21 customers today at 30.00 an hour. I'm so excited about my business venture with HydroBikes the Rolls Royce of waterbikes. I have a lot of jealous competition giving me a cold shoulder!" Scott Britt, Carolina Beach NC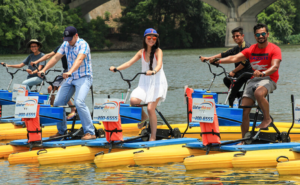 ~~~~~~~~~~~~~~~~~~~~~~~~~~~
"I will have to get some more Hydrobikes! The bikes are the biggest thing to hit the area! I am opening up the Bellisle Beach Club on Labor Day.
I have 30 kayaks and paddle boards. The hydro bikes are the biggest thrill though. I would buy a hundred if I could! Everyone loves them …young …old. Heavier people who would normally feel challenged on the water are very comfortable.. especially when they see how stable they are!
Families who have small children feel comfortable putting their children on the pontoons for a ride. Yes I want more! The property and water here is just so perfect for them.
I had them on the beach last weekend and everyone wanted to join the Beach Club just to be able to ride the bikes! There are several inquiries into folks buying them." Marty Bell, Belle Isle Marina VA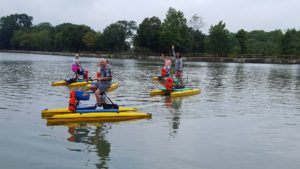 ~~~~~~~~~~~~~~~~~~~~~~~~~~~~
"We as you know are the only outside contractors here at Walt Disney World that operate a recreational rental business on property. Our location at the Buena Vista Palace Resort and Spa gives us a great opportunity to present products to guest from all over the world and test product under high usage.
Prior to the Hydro-Bikes arriving we had two Sea-Cycles on property available for guests to rent. The Sea-Cycles had a unique look and guests were very interested to try them but we found them not suitable to our standards and unable to maintain them.
I would personally recommend Hydro-Bikes to any resort or rental operator looking to purchase reliable equipment that will return their investment."
Robert C. Smith Owner/Operator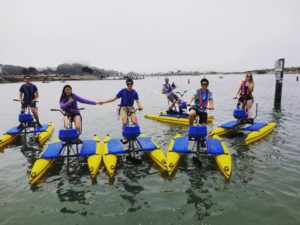 ~~~~~~~~~~~~~~~~~~~~~~~~~~~~
*Bermuda Tourism Authority Champions Two Entrepreneurs For Their Hydrobike Rental Business
*Learn More:  Profiting With Hydrobikes is a 60 Page Comprehensive Guide
Hydrobike Rental Rider Reviews:
BC Water Bike Rider Reviews:  "What an amazing activity and right here in our own back yard. So much fun and Sean is amazing to deal with and assist you with everything. Love Love Loved it!!"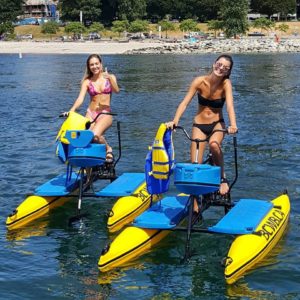 ~~~
"Absolutely love it !! It was easy and safe to ride without requiring any skill. Shawn (the owner) and the staff were extremely friendly and helpful. I took the sunset ride which was totally worth the money – to watch the beautiful sunset on the water was magical! Strongly recommended."
~~~
"So much fun! Great way to spend a sunny afternoon 
🙂 Got some really good photos and even better memories!"
~~~~~~~~~~~~~~~~~~~~~~~~~~
Emerald Coast Hydrobikes Rider Reviews:  "Way too much fun. Can't wait to do it again. I'll be telling all my friends."
~~~
"Could not stop saying "this is so much Fun" during our ride… would highly recommend this to anyone, any age! Friendly Service, Easy to operate bikes and the Scenery is Gorgeous! Loved it!"
"What a wonderful experience! We are locals and were looking for something new to do. We were able to have the freedom to explore and able to go almost anywhere. The people are super polite and helpful and the prices are very fair."
~~~~~~~~~~~~~~~~~~~~~~~~~
Monterey Bay Hydrobike Rental Reviews; "This was a belated birthday gift from my girlfriend and it was the best present I could ask for!! It was a beautiful day and seeing the wildlife so closely blew my mind! We got there early (because we were coming from Roseville so we left early) and Mark let us out on the water 30 minutes earlier so we could have more time to enjoy our experience. He was so nice and friendly and you can tell he loves what he does! I would recommend to anyone and have told him I would be back for another trip! I would give it 10 stars if possible!"
~~~
"Definitely one of the best activities ever! It was a great way to experience the Elkhorn Slough – the wildlife is amazing. Also, the vantage point you have on the hydrobikes are superior to that on kayaks ~ and the ease of hydrobiking makes the adventure that much more enjoyable. Mark, the owner and operator was extremely friendly and so sweet – I had to give him a hug and thank him after the trip. Looking forward to coming back with more friends!"
~~~
"So much fun to do as a group. We were a group of 7 with two eleven year olds on up to a 45 year old and we all loved it. Great way to see the slough and the wildlife we saw was spectacular. Easy to do, not a lot of instructions to get started. Excellent experience. And Mark was great-super friendly and laid back. Definitely try!"
~~~~~~~~~~~~~~~~~~~~~~~~~~~~
Hydrobike rental business operators control local rentals of a very unique and appealing pedal powered watercraft.  You'll have a protected territory with no competition.  We promote your location.  Our water bikes are the clear choice of consumers when put alongside pedal boats, kayaks, and SUP'S.  You never get wet.  No balance, or ability is required.  Your market is large and diverse.  Everyone from 8-80 can enjoy a Hydrobike.
 Hydrobikes are the best kept secret in water recreation!  Be the first to share them in your community.
Hydrobike Rental Business Advantages
Unique, Proven Profitable Business
No Competition, Protected Rental Territory
$100 Per Bike Paid For Your Referrals To New Purchasers
Durable, Long Life, Commercially Built USA Built Water Bike
Eco Friendly Pedal Powered Water Bike Rental Business
Real Biking On Water Product
Unique Appeal To Everyone 8-90
Synonymous With Family Water Fun & Fitness
You'll Be The Only Hydrobike Rental Outlet In Your Area
Cool, Fun in the Sun Business!
You'll be profiting from a premier USA built pedal powered water bike with unique appeal and legendary for long life.  That means year after year of consistent revenue generation.  You'll enjoy a competitive edge by putting your name alongside Hydrobike Inc., the world's # 1 selling water bike manufacturer.
As a member of Team Hydrobike, you'll have over 25 years of our experience in Hydrobike rentals to draw from.
As the first in your area to offer Hydrobikes you'll hit the ground running with a proven rental product that has been synonymous with premier family fun and fitness on the water since 1990.
To learn more about becoming a Hydrobike water bike rental business operator, or to get started, contact John at 1-888-403-9012, or email john@hydrobikes.com for a Hydrobike Rental Business Info Kit.